Let us keep you up to date with all the latest!
After all the years of writing, recording and producing for other artists, Peter's back in the studio recording his own songs.  Peter is once again taking to the stage singing his own songs and is available for house concerts, performances, and leading songwriting workshops as part of his outreach to the writer/artist community through his New York Songwriters Collective.
Here's a new song "Imperfect" featuring my wonderfully talented friends Janie Barnett on backing vocals with Kaitlyn Raitz and Ben Plotnick, who I met last year at NERFA, adding their violin, cello and vocals. Janie has a great new CD entitled, "You See This River". Kaitlyn and Ben call Nashville home but will be in NYC at Rockwood on Oct.12 performing as Oliver The Crow. I'll be back from my Nashville trip then and look forward to the show. And being ….. Imperfect….. is perfectly OK!
Recent  News!
New York Songwriters Collective "LIFERS" Writers in the Round featured an evening of hit songs with Shelly Peiken, Alex Forbes, Phil Galdston and Peter!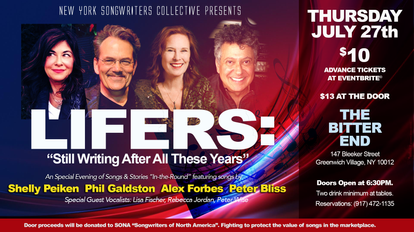 The song / video "Brother's Keeper" takes on the last years of turmoil that have filled our country and the world.  Now more than ever ... music matters!